New information suggests the Swamp Thing TV show may be a "strange but alluring Shape of Water romance" (alluding to Guillermo del Toro's Oscar-winning fantasy romance film The Shape of Water). It will debut on DC's upcoming streaming service.
DC is launching its own streaming service and it has announced several TV shows that will appear on it. One of the most exciting announcements was a Swamp Thing show, helmed by none other than James Wan. Wan's directorial Aquaman (a DC film) will release later this year and he has worked with Warner Bros (DC's parent company) in horror movies like The Conjuring. Swamp Thing is a human-plant hybrid, who was a scientist called Alec Holland once. The character is unique among comic-book characters that it is mostly a horror character and frequently engages with Justice League Dark, a DC superhero team that deals with supernatural threats.
Created by Len Wein and Bernie Wrightson, Swamp Thing has been graced by writers like Alan Moore, who wrote it as an elemental entity that was not really Alec Holland but had devoured his memories. Swamp Thing has a love interest called Abby Arcane. New information from The Hashtag Show suggests the show may be a "strange but alluring Shape of Water romance" alluding to Guillermo del Toro's Oscar-winning fantasy romance film The Shape of Water.
Here is everything about the primary characters of the show as revealed by The Hashtag Show:
Abby Arcane
Female, 30s, smart, private, professional, something of a loner, Abby works for the Center for Disease Control in Atlanta, which has sent her to her hometown of Houma after ten years away to check out the worrying "Houma Flu." After losing her mother at age 8 and bouncing through a series of foster families, Abby suddenly left Houma after high school to study medicine. Abby is good at her job but currently in the doghouse with her boss. Struggling with a secret that's prompted her leaving and now the need to pop pills when necessary, Abby is apprehensive about going back home to Houma, and things are indeed awkward with her high school ex, Matt, who remained in Houma and became a cop. Abby hits it off immediately with a Sunderland Corporation researcher, Alec Holland, but soon discovers that her own efforts, like those of Alec, are considered suspicious by the townsfolk, who aren't happy with her feeling that it's best to shut down the swamp (where the locals make their living) as they investigate the flu. Abby has her hands full with a potential epidemic, a town full of hostiles, and a strange but alluring "Shape Of Water" romance with a creature borne from the swamp.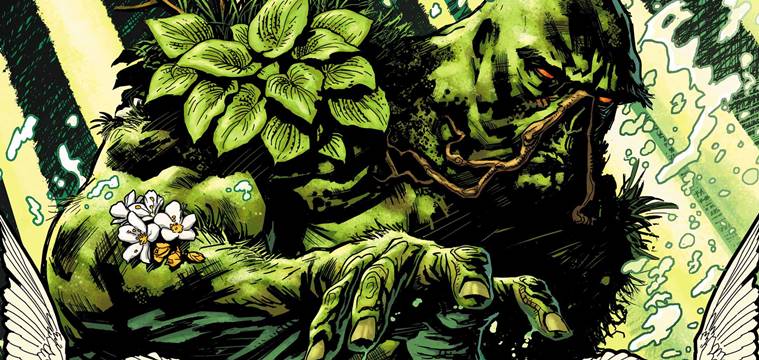 Swamp Thing in DC Comics.
Alec Holland
Male, 30s, smart, a bit of a hot-head, determined, passionate about his work, Alec works for the Sunderland Corporation (which is apparently building a hospital in Houma) as an independent researcher, where he's discovered a connection between the swamp and the Houma flu. Alec hits it off immediately with CDC researcher and Houma native Abby Arcane, and the two are quite alike, each wanting more out of life, interested in science, and not having much of a love life. Alec is not a big hit with the rest of Houma, however, who view him with suspicion if not open hostility. Alec is determined to persevere despite the town's hostility, but it's clear that the Swamp has its own plans for Alec when he undergoes a strange transformation into a swamp-based creature with abilities he could never imagine.
(The India News staff does not claim ownership of this content, source sited above)