Farewell to Atal Bihari Vajpayee: The final journey somewhat symbolised his life: somewhat planned, somewhat unpredictable, some moments of bridging a divide, some moments of being out in the cold. And it all played out on a hot, humid afternoon.
As bugles sounded the last post and soldiers fired in the air in salute, a sea of people at the Smriti Sthal in central Delhi bid a tearful farewell to former Prime Minister Atal Bihari Vajpayee whose mortal remains were consigned to the flames with full state honours Friday, a day after he passed away at age 93.
The final journey somewhat symbolised his life: somewhat planned, somewhat unpredictable, some moments of bridging a divide, some moments of being out in the cold. And it all played out on a hot, humid afternoon. Friends and rivals sat together, watching in silence as Vajpayee's foster daughter Namita Kaul Bhattacharya lit the pyre. Many in the crowd fought tears when the Tricolour draping Vajpayee was folded and handed over to grand daughter Niharika. Not since the assassination of Rajiv Gandhi in May 1991 had Delhi seen such a multitude gather to have a last glimpse of their leader.
People in hundreds poured on to the roads as the cortege headed to Smriti Sthal from the BJP headquarters on Deen Dayal Upadhyaya Marg — Prime Minister Narendra Modi and BJP president Amit Shah led the mourners on foot the entire distance.
At Smriti Sthal, Modi and Shah were joined by President Ram Nath Kovind, Vice President M Venkaiah Naidu, BJP veteran and Vajpayee's close friend L K Advani, RSS chief Mohan Bhagwat, Lok Sabha Speaker Sumitra Mahajan, former Prime Minister Manmohan Singh, Congress chief Rahul Gandhi and a host of dignitaries, including Bhutan King Jigme Khesar Namgyel Wangchuck and Afghanistan's former President Hamid Karzai.
The ceremony, watched in homes and offices across the country, went off with clockwork precision — it was, after all, a state funeral. But long before the ceremony, there were moments of panic, last-minute arrangements at the cremation venue. Shortly after noon, when people were filing past Vajpayee's body at the BJP headquarters, policemen showed up at Smriti Sthal with boards announcing the VIP alighting point. As Army personnel brought the wreaths, someone raised an alarm about stray dogs. Three dog catchers promptly turned up and began chasing the dogs — and a municipal van showed up.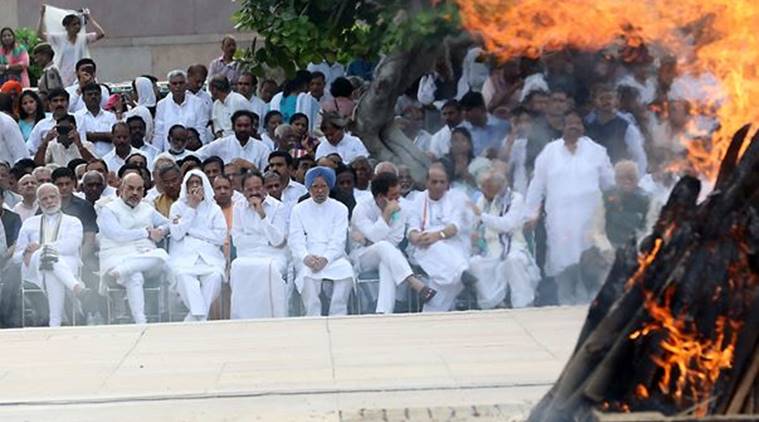 PM Narendra Modi, BJP Chief Amit Shah, Party Senior Leader LK Advani, Former PM Manmohan Singh, Congress President Rahul Gandhi, and others at the funeral of former PM Vajpayee on Friday. (Express Photo by Tashi Tobgyal)
And then it was time to stockpile, arrange the sandalwood logs for the final rites. Suman Gupta from Nigambodh Ghat, one of the organisers, said 400 kg of sandalwood and samagri were to be used. Special Protection Group personnel came to check the sacks. "Dont' worry, we are careful," one of the SPG officers told the priests.
Young men were propping up a makeshift structure, dragging an asbestos sheet over an overhead iron frame. "It is a cloudy day, and we cannot take chances. What if it rains?" a CPWD official said.
Among the first to reach the site were Trinamool Congress leaders Sukhendu Sekhar Ray and Dinesh Trivedi. "We were asked by Didi (Mamata Banerjee) to come here," Ray said. Trivedi, on his part, said he had "amazing memories" of the man he knew.
The ashes would be scattered in rivers flowing through various cities including Agra, Allahabad, Lucknow, Kanpur, Amethi, Varanasi, Bareilly and others.
As word came in that the cortege had left the BJP office, the pace of work at Smriti Sthal picked up. BJP leaders Muralidhar Rao and Smriti Irani asked workers to hurry up. Defence Minister Nirmala Sitharaman was also there to oversee the arrangements. Leaders began arriving. Around 3.30 pm, Mulayam Singh Yadavcame in and sat alone on the front row. At one end, AAP's Arvind Kejriwal and Manish Sisodia sat next to Chhattisgarh Chief Minister Raman Singh. Next to Singh were Congress leaders Anand Sharma and Ghulam Nabi Azad. The Badals too showed up.
As he sat alone, former Prime Minister Manmohan Singh was joined by BJP's Murli Manohar Joshi and they were seen with RSS leaders Bhagwat and Bhaiyyaji Joshi. Rahul Gandhi walked in around the time the cortege reached the Smriti Sthal.
As the casket was brought in, personnel of the three Services and their chiefs led the ceremony. By 5.45 pm, an hour after the pyre was lit, most leaders had left. The crowd that had waited outside came in. Vajpayee's family was still there.