Kylie Jenner is on the way to becoming the youngest self-made billionaire ever. According to Forbes, the company of the youngest of the Kardashian-Jenner family is valued at almost 800 million dollars.
By: Express Web Desk | New Delhi | Updated: July 12, 2018 2:25:39 pm
Reality TV star Kylie Jenner is on track to become the youngest self-made billionaire in the United States thanks to the booming cosmetics company she launched two years ago, Forbes magazine reported on Wednesday.
Jenner, 20, half-sister of Kim, Khloe and Kourtney Kardashian, debuted Kylie Cosmetics in 2016 with $29 lip kits containing matching lipstick and lip liner and has since sold more than $630 million worth of makeup. Forbes said it valued her company at nearly $800 million and that Jenner owns 100 per cent of it.
Kim Kardashian West turns to Kylie Jenner for parenting advice
Kim Kardashian West has admitted she's been turning to her half-sister Kylie Jenner for help on all the new "baby gadgets".
On Wednesday she posted her Forbes cover photo on Instagram with a caption that read "wow. i can't believe I'm posting my very own @forbes cover."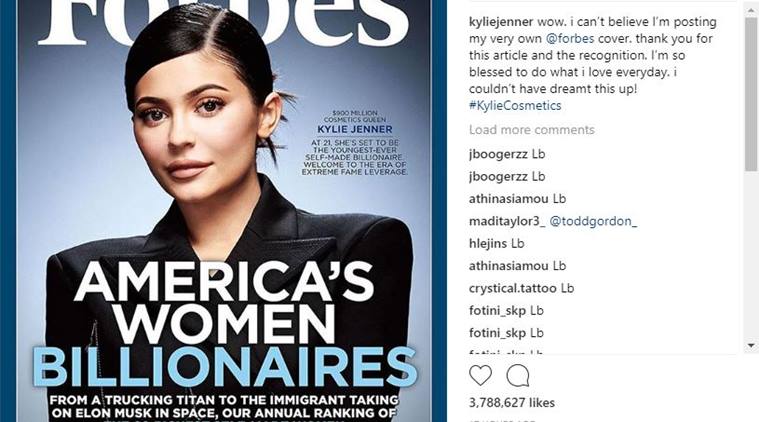 Kylie Jenner posts Forbes cover photo on Instagram
Adding millions from TV programs, endorsements and after-tax dividends from her company, Forbes said Jenner was "conservatively" worth $900 million. Another year of growth would make her the youngest-self made billionaire ever, male or female, the magazine said.
Jenner first grabbed the spotlight as part of the "Keeping Up with the Kardashians" reality TV show with her mother and siblings. Forbes estimated that Kim Kardashian, who has her own cosmetics, clothing and mobile games lines, is worth $350 million.
In an interview with Forbes, Jenner credited social media for helping drive her success.
"Social media is an amazing platform," she said. "I have such easy access to my fans and my customers."
The youngest sibling of the Kardashian-Jenner has a massive following of 110 million on Instagram.
Kylie started the company due to her own insecurities over her lips which she wanted to change with lip-fillers. Now, her company includes lip products that are designed to help customers seem to have bigger lips with the help of filling and over-lining.
(With inputs from Reuters)
(The India News staff does not claim ownership of this content, source sited above)