The explosion took place when Maduro was addressing the people at the event and suddenly audio of the live television coverage was cut off.
By: Express Web Desk | New Delhi | Updated: August 5, 2018 5:37:54 pm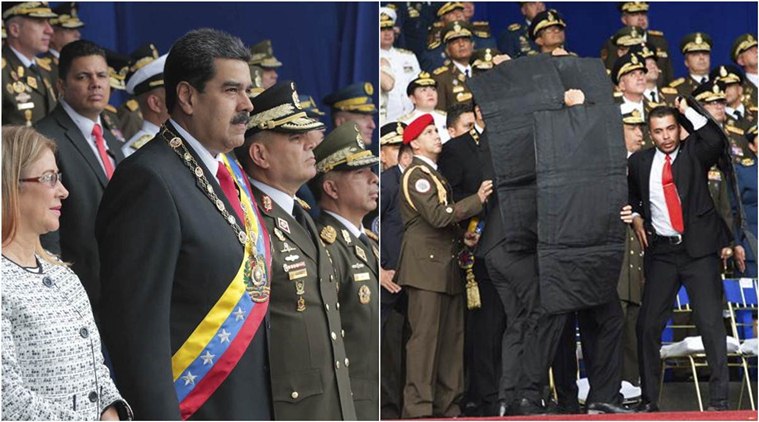 In the photo(R) released by China's Xinhua News Agency, security personnel surround Venezuela's President Nicolas Maduro during an incident as he was giving a speech in Caracas, Venezuela, Saturday, August 4, 2018. (Source: Xinhua via AP)
Venezuelan President Nicolas Maduro survived a purported assassination bid on his life when a drone loaded with explosives went off during his speech at a military event on Saturday. The government blamed the attack on Colombia and the US state of Florida, which is inhabited by many exiled Venezuelans.
Video footage released by local media showed Maduro and others standing on the podium looking up startled while some soldiers were seen running in panic as the drone carrying explosives detonated. The live television feed was later cut off.
Venezuelans seek new life in Colombia
As the economic crisis in Venezuela deepens, more people are leaving for neighbouring countries.
#BREAKING Speech by Venezuela President #Maduro cut off during a military parade, soldiers seen running
Maduro, who escaped unhurt in the incident, said "everything points" to a right-wing plot against him and also claimed arrests have been made in the case.
In a televised address, Maduro said, "This was an assassination attempt, they tried to assassinate me." Seven National Guard soldiers were injured in the explosion.
A group called the 'National Movement of Soldiers in T-shirt' claimed responsibility for the attack. The group said that it had planned to fly two drones but snipers shot them down.
In this still from a video provided by Venezolana de Television, Presiden Nicolas Maduro, center, delivers his speech as his wife Cilia Flores winces and looks up after being startled by and explosion, in Caracas, Venezuela, Saturday, Aug. 4, 2018. (Source: Venezolana de Television via AP)
"We demonstrated that they are vulnerable. We didn't have success today, but it's just a question of time," it said. The group claims to have been founded in 2014 to bring together all of Venezuela's "groups of resistance."
Maduro, who is serving his sixth term as the president of Venezuela, has been facing backlash as the country has been under severe economic crisis for the past five years, which further led to malnutrition, hyperinflation and mass emigration.
Without offering any proof to substantiate his claims, Maduro named Colombian President Juan Manuel Santos behind the attack. "The name of Juan Manuel Santos is behind this attack … the initial investigations point to Bogota," Maduro said.
He further said that initial investigations indicated "several of those intellectually responsible and the financiers of this attack live in the United States, in the state of Florida."
While the Colombian authorities termed the allegations 'absurd', a senior US State
Department official said they are "carefully following the situation."
(The India News staff does not claim ownership of this content, source sited above)